Economy Indian Club Beginner's Kit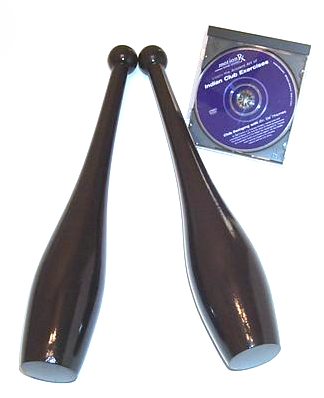 We have had many requests for lighter clubs suitable for beginners, and for instructional materials. We are pleased to say that we can now provide both in a kit form. This is a box set of one pair of 16.5 inch one pound clubs along with an instructional DVD featuring Dr. Ed Thomas.




Economy Beginner's kit, including shipping in North America is

$65



---
Ed Thomas' Indian Club DVD
This is Dr. Thomas' indian club instructional dvd by itself.




Ed Thomas Instructional DVD, including shipping in North America is

$22






---
Indian Clubs, Economy, Standardweight

We have sourced 2 pound clubs from offshore for those who are on a budget. They aren't as good looking as our clubs but they're half the price.

Economy 2 pound clubs, including shipping in North America is

$72





---
Standardweight Clubs
To order any of these clubs shown, you can email us or use the paypal button next to the item. Shipping in North America is included in the price.

To purchase any of the 2.5 pound (approximate weight) clubs for $185, use this button:


Please describe to us what combination of woods you would like, or feel free to

email us

to discuss it. In any case it's a good idea to

email us here

and let us know what you just ordered.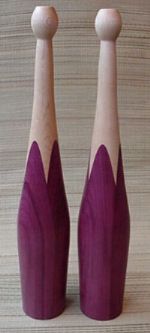 Indian clubs were used at the end of last century for exercise and injury recovery. They fell out of favour and now it's almost impossible to find clubs of the right size. Below is a comparison of our purpleheart and maple club with the clubs used in rhythmic gymnastics. They are of course much heavier than the plastic juggling clubs you may find.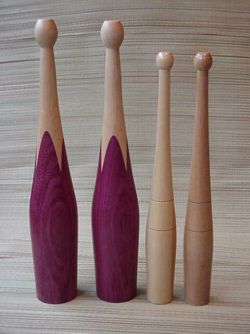 Our clubs can be made to any size and shape you might specify. These are 50cm (20 inches) tall by about 8.5cm (3.25 inches) at their widest point. They weigh 1.25kg (about 2.75 pounds) each which is a good size and weight for the average martial artist. Much thought has gone into this club design, if you look carefully you will see that the neck has a very slight swell to better fit into the hand. The knob is also designed to fit the palm well and for comfort and safety.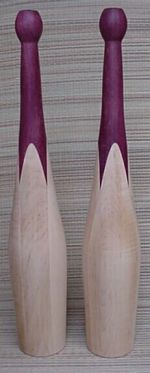 If you want to know what they look like with a purpleheart core and the maple on the outside.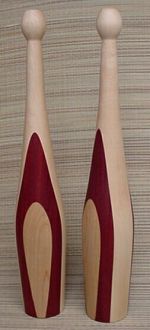 And here's a set with maple and padauk lamination done vertically.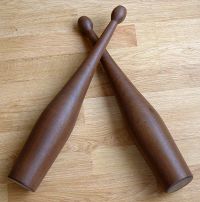 There are very few exotic woods that can be obtained in sizes suitable for clubs, Ipe is one. These clubs are 1270g (about 2.8 pounds) each.


---
Heavyweight Clubs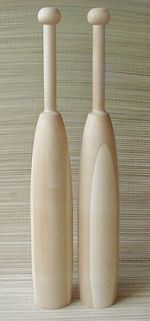 Now here's a pair of bruisers. These clubs are made of maple; are 32 inches high and over 4 inches in diameter. They weigh close to 10 pounds (4.5kg) each. They are US $205 each (you can order just one as a tanren bo if you'd like).
Here's the big ones behind the regular size clubs for comparison.
Of course clubs weren't always used for swinging, here's a shot of Bob Jones from 1929 using clubs to balance on his thumbs.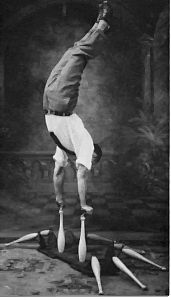 ---
Email Kim Taylor for prices on other woods and other sizes.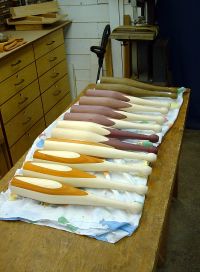 Some clubs in production
By the way, these indian clubs have no relationship to the North American war club. They are named for the clubs used by Middle Eastern and Indian wrestlers for exercise. You can find out more about Indian Club swinging by going to Physical Training, a journal of exercise technique for martial arts.
For Indian Clubs see: http://ejmas.com/pt/ptart_lewis_1101.htm
http://ejmas.com/pt/dandfclub.html
http://ejmas.com/pt/ptart_treat_0501.htm
http://ejmas.com/pt/ptart_dick_0101.htm
For Tanren bo: http://ejmas.com/pt/ptart_taylor_1200.htm