THE SEI DO KAI
SUPPLIES CATALOG
Weapons Bags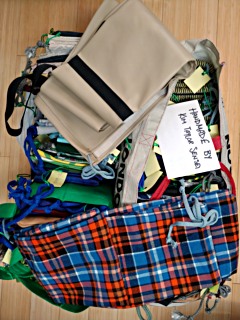 Sei Do Kai
44 Inkerman St.
Guelph Ontario
Canada N1H 3C5
519-836-4357
Basic Cloth Bags







Bokuto Length (42 inches, 3.5 shaku, 106 cm)

$18 includes shipping in North America



Jo Length (4 feet, 4 shaku, 120 cm)


with an outside tanto pocket
will fit jo bokken and tanto


$25 includes shipping in North America

Bo Length (6 feet, 6 shaku, 180 cm)

A basic blue bag with no frills.

$27 includes shipping in North America
Nylon Canvas Jo length bag






Size, 7" wide by up to 56" long.
Will hold 4-5 bokken / jo
Adjustable shoulder strap
Reinforced bottom

Large exterior pocket will fit tanto







Dark Blue

$43 US includes shipping in North America


Tan

$43 US includes shipping in North America
Lined Handmade Sword Bags
Photo (Click for larger image)

Description

Price
(Includes Shipping in North America)
(shipping price included so you know)

Paypal




















111216-1
Red Kitty
Brocade contains silk

Hand Made Sword Bag

Made by Brenda herself
$70




111216-2
Green Dragonfly
Brocade contains silk

Hand Made Sword Bag

Made by Brenda herself
$70



111216-3
Blue
Polyester Brocade

Hand Made Sword Bag

Made by Brenda herself
$55



111216-4
Black Dragonfly
Polyester Brocade

Hand Made Sword Bag

Made by Brenda herself
$55



111216-5
Maroon
Polyester Brocade

Hand Made Sword Bag

Made by Brenda herself
$55



111216-6
Black Floral
Polyester Brocade

Hand Made Sword Bag

Made by Brenda herself
$55

Japanese Made Katana Bags






Will fit iaito or katana up to 2.45 shaku
Outside measurement is 44" or will hold a weapon up to 43" total length







Nylon Bag

$75 US includes shipping in North America


Nylon Canvas Katana Bag

$135 US includes shipping in North America
Custom Leather Weapons Bags




Custom made in Canada for SDK
The best genuine leather weapons bags on the net.
We currently stock only black bags





Katana Bag


Outside measurement is 47.5 inches, this bag will hold at least a 2.6 shaku katana.
That is, an overall length of about 47 inches.

$230 US includes shipping in North America


Multiple Weapon Bag


two inside pockets with soft material and leather flaps
padded shoulder strap
large outside pocket
heavily reinforced strap and reinforced handle
strap to fold over the top if desired
will fit jo or shinai


$260 US includes shipping in North America
Club Bag


we've got some tan club bags left
see below for more details


$310 US includes shipping in North America
---
Wholesale orders for weapons bags

All of the bags above are available at wholesale prices for orders of 6 or more. All bags except the custom leather bags can be combined to make an order. Leather bags must be ordered in units of six per style.


We currently stock only black custom leather bags but other colours available include natural brown (tan), dark brown and black. Ask us for currently available colours. We can also suply other leather items such as club jackets, bogu bags, gym bags and many other items.

Leather Multiple Weapon Bag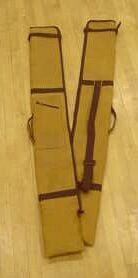 Multiple weapons bag, will hold several weapons from tanto to jo size (almost 5 feet long). Full length Zipper, 2 internal pouches, one external, carry strap and handle.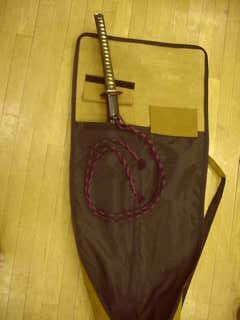 Leather Katana Bag

Here is the classic katana bag, designed for one sword with an external pouch for your cleaning kit. Below is the zippered top opening, (and my Engnath shinken with Fujiwara fittings).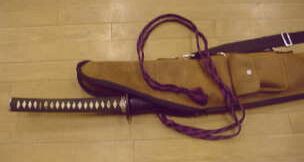 Leather Club Bag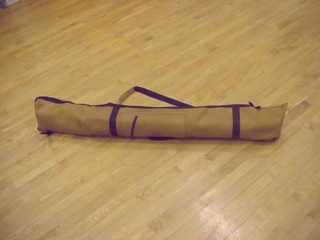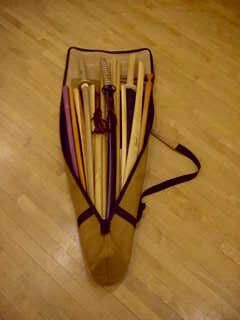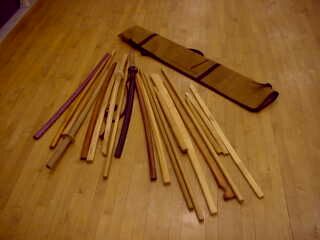 Here's an expanded version of the multiple weapon bag, we call it the Club Bag. Count how many weapons we stuffed inside that thing, and that was with the tsuba on two bokuto and one shinken. I own this bag and it hasn't left my shoulder since I bought it. My students (who keep forgetting to bring their own weapons to class) love it too.
Leather Shinai Bag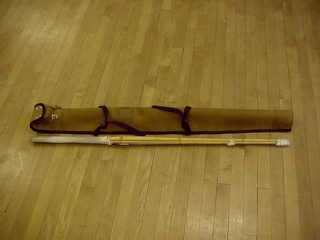 Here is a leather bag for the kendoka, black or natural brown.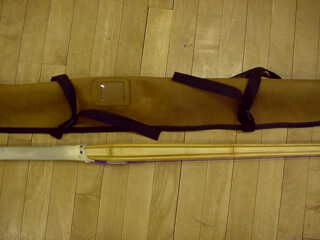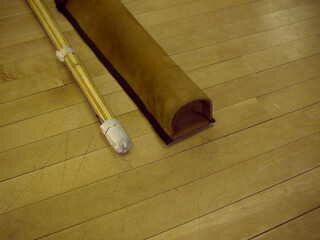 The bottom is folded and sewn under to protect the bag from scuffing.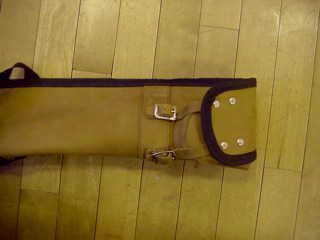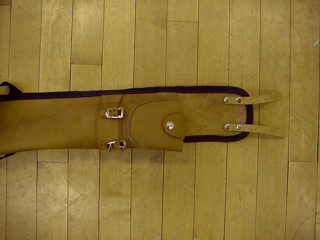 Here's the top of the bag with the tsuba pouch and double straps that cover the whole thing.

Please email me at kataylor@sdksupplies.com to order or mail your check or international money order to:

Sei Do Kai
44 Inkerman St
Guelph Ont
Canada N1H 3C5
"It's not exactly full of beautiful models in undies but you might find something you want."
By the way, all prices are in whole numbers because we figure most people have caught on to the $XX.99 thing... although I must confess $XX.99 always looks better to me. We also include shipping costs up front rather than tack it on later. Call us if you want more than one item and we'll adjust the shipping prices then.
---
Return to Catalog Index
Page last modified Dec 19, 2011 by Kim Taylor