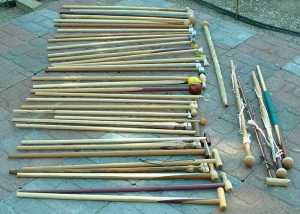 From time to time I get the urge to stretch a little and make something that tickles my fancy. Perhaps some of these walking sticks will tickle yours. I've usually got a selection of them sitting around the house, and may even have one or two of these available for sale to a good home.

Check out the pages below for an explanation of what, why and how-in-the-world.

Most of these sticks are 36" and have no tip so that they can be cut down to the correct size. Some are tapered, the shaft being 1 inch (25mm) at the grip, and tapering to 3/4 inch (19mm) at the tip. Others are 3/4 inch for the whole length. One thing is certain, you aren't going to find these sticks anywhere else.


Email Kim Taylor for prices on other woods and other sizes.

---
Some links to information

Sticks for backpacking
Self Defence using the walking stick
Vigny method
Barton-Wright method I
Barton-Wright method II
The Walking Stick Method of Self Defence (1923)
More stick stuff than you can shake a... oh...
Other Suppliers
I know it's not good business practice to alert your customers to other suppliers but walking sticks and canes are often an art form so here's some links to folks who make them an art.

Cocomir's Canes I really like the canes, and I also like the website.
Cannes Fayet has been making canes in France since 1909.
The Walking Stick Shop looks like a great place to go and poke around. Get it, poke around! Oh I crack myself up.